Book Review: Happy Money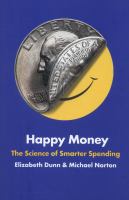 Dunn, Elizabeth & Michael Norton. Happy money : the science of smarter spending. Simon & Schuster, 2013. also available as a Kindle eBook.
In The Everything Store (reviewed here) author Brad Stone said that in 1994, Jeff Bezos used his "regret-minimization framework" to decide to walk away from his Wall Street bonus to start his own company.  Bezos knew that in his later years, he would not miss his bonus, but he would regret missing the opportunity to participate in the ramp up of the Internet, which he believed would be revolutionary.  Bezos left D. E. Shaw and started Amazon, which transformed the retail industry.
In their new book Happy Money, professors Elizabeth Dunn and Michael Norton reveal that 80% of the time, people's biggest regret is one of inaction – passing up an opportunity to participate in an experience when the opportunity comes along.  When it comes to material goods, the opposite is true.  Most people's biggest regret is in buying something they wish they had not.
As faculty members at the U. British Columbia (Dunn) and Harvard (Norton), the authors research how adults spend their money, specifically whether there are ways to spend money that would make people happier.   Earning more is usually not the answer – earnings beyond $75,000 have no effect on happiness.  But using money in certain ways has an impact on satisfaction and Dunn and Norton outline 5 key principles that lead to more personal and professional satisfaction.  They explain that buying experiences such as travel or sports events makes people happy, whereas material goods lead to disappointment.  They also show that limiting access to luxury goods for a short time periods renews the capacity for pleasure.  And they describe how delaying consumption of both experiences and material goods allows spenders to enjoy the pleasures of anticipation.
Dunn and Norton recommend that people focus their attention on their time, choosing activities that promote satisfaction on a daily basis.  Wealthy individuals tend to spend their time working, commuting and shopping instead of pursuing their passions or spending their time with loved ones.  The stress of their activities leads to a lower level of satisfaction than the average American.  Spending time socializing or exercising lead to high levels of well-being, and both are unrelated to income.  Dunn and Norton's research also shows that spending on others provides the largest happiness boost.
Short and engaging, this book is recommended to anyone wanting more satisfaction.  The content overlaps other books on the topic, including the best sellers written by Fuqua faculty member Dan Ariely.  But for this reviewer, after reading books about the bitter billionaires at Twitter and Amazon last month, Dunn and Norton's book comes as a welcome experience.
© Reviewer: Meg Trauner & Ford Library – Fuqua School of Business.
All rights reserved.