This article originally appeared on Fuqua's Daytime MBA student blog and is shared here with permission.
by Patricia Murray, Daytime MBA '22
I came to Duke's Fuqua School of Business with the goal of building out my strategy skillset to make a pivot from customer marketing to a more strategic function, such as product marketing or internal/corporate strategy. I had worked across a broad range of industries (education, non-profit, tech), but I had limited experience with the discovery and recommendation process that is so critical to strategy design.
To make the pivot from being a tactical marketer, to a strategic leader, I knew that I needed to bridge this gap in my experience. As a tactical learner, I focused on taking advantage of all the experiential opportunities that Fuqua offers, including the Fuqua Client Consulting Practicum (FCCP), where students get to collaborate and consult on real scenarios facing businesses.
The Project
While exploring the different and amazing project options, I realized that though I was interested in nearly all of the project content areas, there was specific criteria that I was looking for with the clients, or organizations involved with FCCP. I wanted to work for a large firm, in an industry that I hadn't worked in before. I knew that pushing myself out of my comfort zone was where I would learn the most.
Using this criteria as a guide, I was excited to get placed on Citi's, "Agile Career Mobility" project, which focused on developing an internal mobility pilot strategy for their North American marketing team.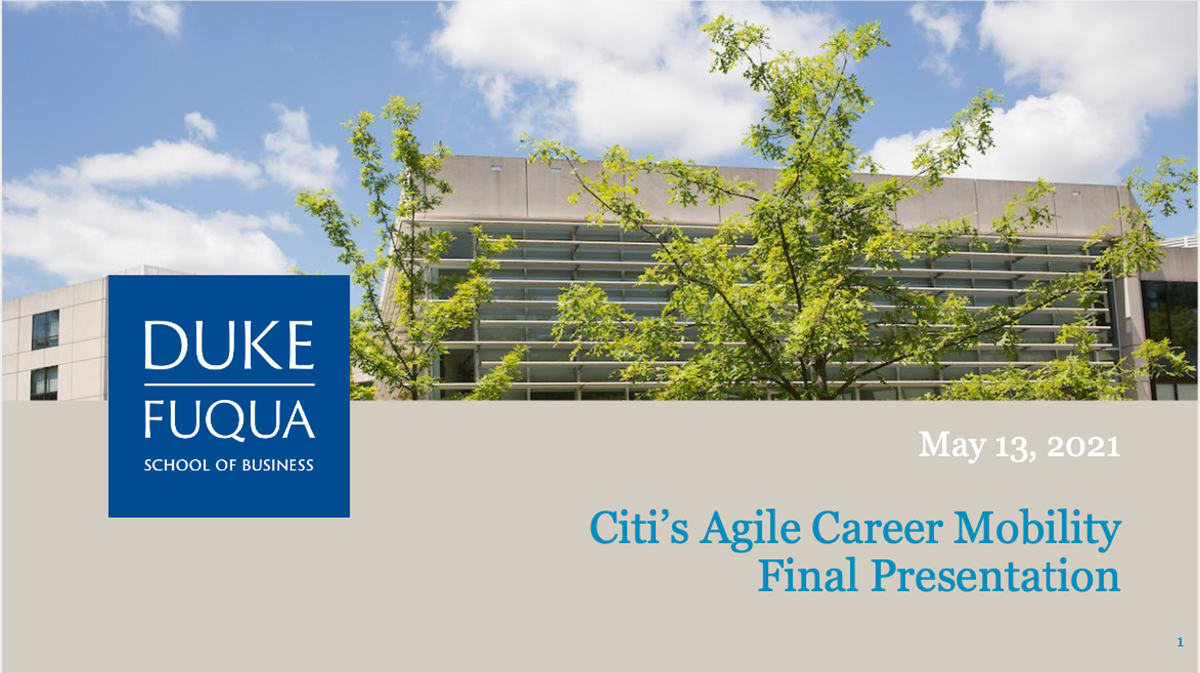 Our FCCP team conducted a mixture of qualitative and quantitative research to understand internal mobility best practices, outline Citi's existing internal talent mobility process and identify improvement opportunities to help the team achieve its desired outcomes.
My favorite part of the FCCP project was analyzing the wealth of information we gathered from interviews with people within the North American marketing team and survey responses to define clear themes and recommendations for paths forward.
The project culminated in a final presentation to not only our project leads in HR and Learning & Development, but also the North American Chief Marketing Officer and other leaders in the marketing organization.
My Takeaways
Without my experience with the Fuqua Client Consulting Practicum I feel confident that I would not have felt as prepared for my internship at LinkedIn over the summer. Learning the skills to execute a consulting project from start to finish, culminating in an executive-level presentation was invaluable. When I look back at my time at Fuqua, I know that FCCP will be one of my most influential courses that I took.